Large Format Equipment, Film, Darkroom, Scanning etc.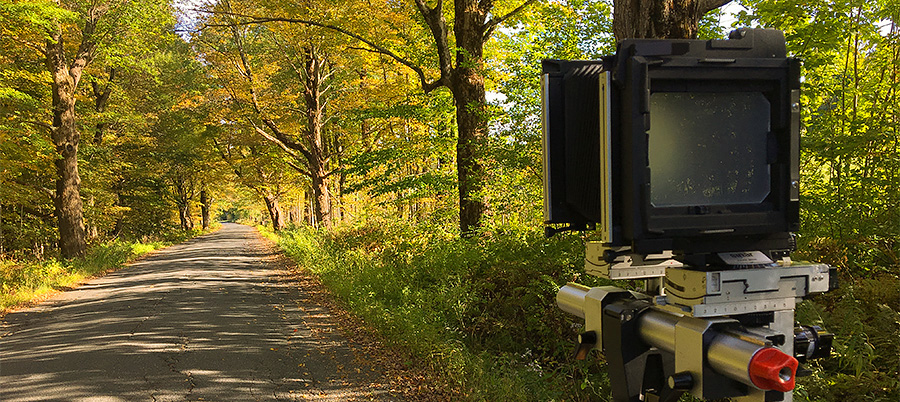 Shooting in Massachusetts with a 4x5 Sinar P
Note to Readers: As of 2020, I no longer own or use any analog equipment but I hope you find this reference helpful.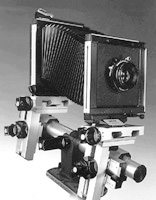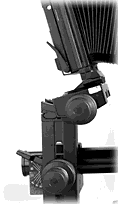 The Sinar P view camera: P stands for Perfection. The Sinar is what all the other view cameras would be... if they could. You can easily locate one on eBay, where there's an abundant supply of used Sinar equipment.
Everything is geared. Every adjustment is smooth and silky. There are very few locking mechanisms, since the gears are so well made, they just stay where you leave them. Made in Switzerland.
The Sinar has asymmetric or yaw-free movements. It stays in focus when you tilt, swing, rise and shift. With other view cameras, you have to tilt, refocus, then raise or lower the camera - over and over again. With the Sinar, you just focus and dial-in the adjustments until everything is right. It's heavenly !
The Sinar is a modular system camera. If you want to add or replace things, you can. Turn your 4x5 camera into a 5x7 or 8x10 camera ? No problem. Just replace the bellows and the back with a conversion kit, also called format change set, conversion set, etc. These kits are smaller, lighter and cheaper than cameras. Because Sinar was the workhorse of choice for so many professionals, there is plenty of used equipment to choose from, in excellent condition. Igor's Camera Exchange carries a lot of Sinar equipment and expertise.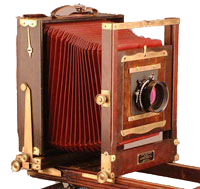 Another superb camera is the 5x7 Kodak 2D, a wooden field camera (left). I found mine at an auction and had a new bellows put on. It works fine again. On the left you can see what someone else's fully restored 2D looks like. It's the latest in 1920's technology !
The 5x7 Kodak's light weight and folding design makes it great for carrying around. Unlike most folding cameras, the Kodak hybrid design lets you leave a lens on the camera at all times, which makes things easy and fast when setting up.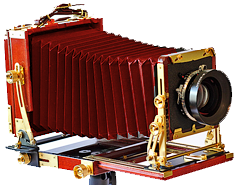 When maximum portability is required, consider the 4x5 Tachihara Wooden Field Camera (right). It's very light and folds quite small. With its red bellows and brass fittings, it attracts curiosity and draws onlookers like a magnet. Using a 200mm Nikkor M lens, it's a treat to walk around and shoot a wide variety of subjects. You can save time and economize space by leaving the lens on the camera, reversed.
If you would like to see what some other Large Format cameras look like, have a look at this thread entitled Show Off Your Camera on the Large Format Photography Forum. You may be surprised to see how many people use them - and how many different kinds of Large Format cameras exist.
View Camera Movements: the Real Deal
Some Favorite Large Format Lenses
Sample Large Format Images
Scanning Tips (with EPSON and VueScan Software)
Formulas for Bellows Extension
Reciprocity Timer app
Favorite Monochrome Sheet Films
Very Simple Film Developer: D-23
Odorless Stop Bath: Citric Acid
Favorite Fixer: Alkaline
Removing Magenta Stain from Kodak TMAX Films
Affordable Equipment for Film Development and Washing
Infra-Red Monocular: Seeing in the Darkroom
How to Avoid Fingerprints on Sheet and Roll Film
Affordable Scanner for Large Format
Carry Your Gear on a Budget
iPhone Shutter Speed App
Calumet Shutter Tester Brochure
Polarizer + Yellow Filter for a Natural-Looking Scene