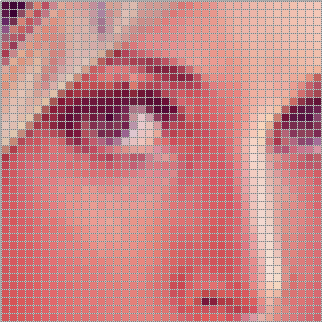 We choose the scanning resolution, depending on how much we plan to enlarge the original.
At typical viewing distance, people with normal vision can discern roughy 6 line pairs/mm, or 12 dots/mm. There are roughly 25mm in an inch, so 25 x 12 dots = 300 dots in an inch. Standard print quality is therefore referred to in the USA as a "300 line screen", namely 300 dpi (dots per inch).
If we scan at 300 ppi (pixels per inch) we can make a print at the same size as the original. If we scan at 600 ppi, we can make a print which is twice the size of the original. If we scan at 900 ppi, we can make a print which is 3 times the size... etc.
Let's say we have a medium format negative which after cropping is 2x2 inches. We want to make a 10x10 inch print. That means we plan to enlarge by a factor of 5. In that case, we need to scan at a minimum of 300 x 5 or 1500 ppi.
Let's say we have a 4x5 slide and we want to make a 12x15 inch print. That means we plan to enlarge by a factor of 3. In that case, we need to scan at a minimum of 300 x 3 or 900 ppi.
Let's say we have an 8x10 negative. We want to make an 8x10 inch print. That means we don't plan to enlarge at all. In that case, we can scan at a minimum of 300 x 1 or 300 ppi.
If you feel that 300 dpi is too close to the minimum, scan at a higher resolution. It's up to you. Depending on the image, you may not be able to see the difference. If it has a lot of fine detail, you probably will.
Dots = Pixels for Our Purposes
Some conscientious people like to distinguish between pixels per inch (ppi) and dots per inch (dpi). Strictly speaking, pixels are related to digital image capture and display, while dots are germane to printers and prints.
For the puropses of this article, the two terms can be used interchangeably.
Actual Scanner Performance
| Film Size | Useable Size | Size @ 1600ppi | Size @ 2300ppi |
| --- | --- | --- | --- |
| 4 x 5 | 3.75 x 4.75 | 44 MP | 90 MP |
| 5 x 7 | 4.75 x 6.75 | 78 MP | 162 MP |
| 8 x 10 | 7.75 x 9.75 | 185 MP | 381 MP |
Although EPSON claims a much higher resolution, their scanners really get somewhere around 1200-1800 ppi of
useable
data. The contrast they deliver at higher resolution settings is rather low: see
this diagram
made by
Nathan Potter
.
By the time we reach 1500 ppi, image contrast is already down to 50%. Fifty percent contrast is a typical cutoff point when evaluating usable resolution of camera lenses. As we move beyond the 2400 ppi setting, contrast for this scanner drops to its bare minimum, effectively zero.
According to this article at filmscanner.info, the EPSON V700 delivers 2300 ppi. They base this number on how many lines they can distinguish when scanning a USAF resolution target. At 2300 ppi, the lines can barely be distinguished. In other words, effective contrast drops very close to 0 once we pass 2300 ppi, just as Nathan Potter's diagram illustrates. For this reason, I never exceed the 2400 ppi setting. Beyond that number we are wasting our time and resources.
See Evaluating the Effective Resolution of Scanners for another study which shows the same basic results. The author observes a modest improvement when scanning at higher resolution and then down-sizing. If we really need more resolution, it's probably best to shoot larger film or purchase a better scanner.
Maximum Enlargement: 6 X ?
| Film Size | 6X Enlargement | Size @ 300dpi |
| --- | --- | --- |
| 4 x 5 | 24 x 30 inches | 62 MP |
| 5 x 7 | 30 x 42 inches | 108 MP |
| 8 x 10 | 48 x 60 inches | 248 MP |
If we print at 300 dpi, an 1800 ppi scan lets us enlarge by a maximum of around
6X
.
If we're shooting on a tripod, or hand-held at a very high shutter speed, these prints will be critically sharp: someone can walk right up to the photo, examine it quite closely and there will be detail as fine as the naked eye can detect.
With 35mm or medium format film a consumer-grade flatbed scanner like the EPSON is inadequate for enlargement past 6-8X. For smaller formats, we need a dedicated film scanner, a drum-scanner or a high-end flatbed... which is another discussion.
That's the Theory - What about Practice ?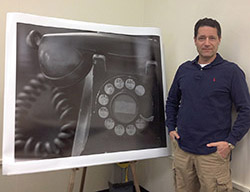 Here's a photo printed at 32x40 inches (80 x 100 cm) at 300 dpi. It was scanned at 2400 ppi with an EPSON V700 from a 4x5 negative: Kodak TMY film developed in D-23.
The taking lens was a 70-year old Carl Zeiss Jena Tessar and the enlargement is almost 10x. Even so, there is no grain and the in-focus areas are tack-sharp. You can see small particles of dust and hair on the telephone that were previously invisible to the human eye. You can see the photo here.
So while theory is good, there's nothing like practice. Some images print well at all sizes, some do not. Some images can be enlarged further or printed at lower dpi and still look sharp. Finally, competent sharpening is an important skill: it allows us to print at lower dpi or make larger prints.