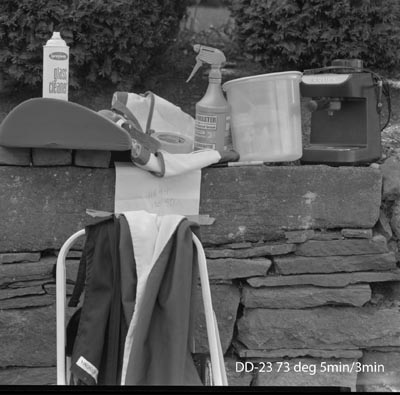 If you work in the darkroom, make a set of prints on Number 2 paper (or with a Number 2 filter), giving just enough exposure for the clear film edge to be as black as the paper allows. Develop your paper with a standard dilution of your favorite paper developer, for a normal duration. Use fresh chemistry and develop each print for the same time, such as 2 minutes in Dektol.
If you have a cold light source, also known as a diffusion light source, then you shouldn't see any difference between a contact print and an enlargement, but if the enlarger has a condenser head or a collimated beam, the difference will be pronounced: high values will be blocked due to the Callier Effect.
My mentor Fred Picker demonstrated this well-known principle conclusively, back in the early 1970's. Compelling illustrations are documented in his classic text Zone VI Workshop.
If you scan your negatives, then make sure your monitor is calibrated and scan your negatives in such a way that the entire range of brightness on the film, is within the range of the scanner. I recommend that the entire curve of the film, occupy 2/3 of the range of the scanner. This gives you 33% to play with, or around 16% at each extreme. In the parlance of the Zone System, it means that you can play with around 1.5 zones at either extreme if you need to.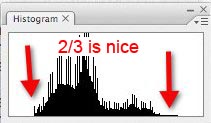 You can always add contrast in an editing tool, but if the negative is already too contrasty for the scanner, you're out of luck, or you have to resort to multi-scan and merge techniques from the world of digital sensors and their low tolerance for dynamic range. So it's best to live well within their limitations and away from the extremes, where "noise" and other distortions appear.
In Photoshop, GIMP or your other favorite image editor, add a linear adjustment layer so that the black film edge is rendered at 0% brightness and so that the high values are rendered correctly. Be sure not to clip any values. Do not introduce any curves: just a straight-line adjustment.. For information about scanning see Scanning Tips (with EPSON and VueScan Software).