The Preview feature has let us adjust the scanning settings, so our scan will get us as close as possible to a faithful rendition of this negative.
We set the scanner to give us a 16-bit greyscale TIFF file. Unlike JPEG (which is "lossy"), the TIFF format results in no loss of visual information. (TIFF stands for Tagged Indexed File Format. JPEG stands for Joint Photographic Experts Group.) For color negatives and slides we use 16-bit color - also known as 48-bit color - because each of the Red, Green and Blue channels get 16 bits.
Scan at High Resolution: Downsize and Sharpen Last
It's easiest if we scan at the highest resolution we'll ever need. That way we have one master scan file, to which we can refer later. We can make smaller versions for printing or displaying on the web, but those should be separate files. Never sharpen the original master file, since that is a destructive operation. And don't sharpen when scanning, for the same reason.
It's best to sharpen our images last.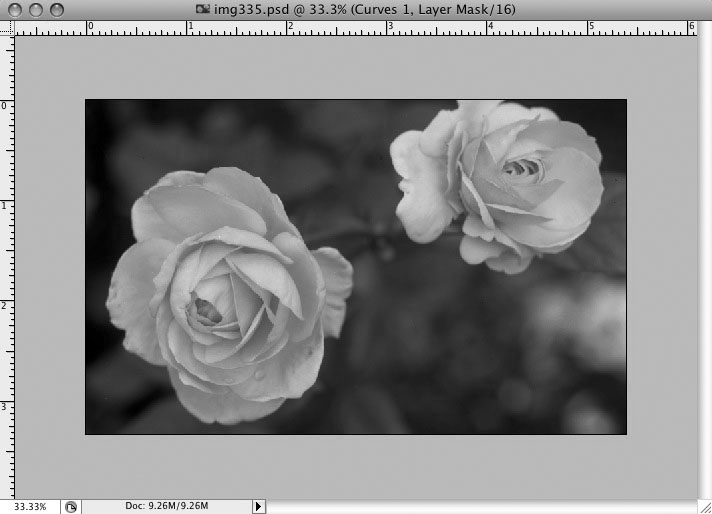 In our editing tool (Photoshop) the image looks pleasing and natural. To tone the image in Photoshop with a warm but subtle color, we can apply a non-destructive Color Fill Layer according to taste. We can do the same thing in GIMP with the Colorize tool.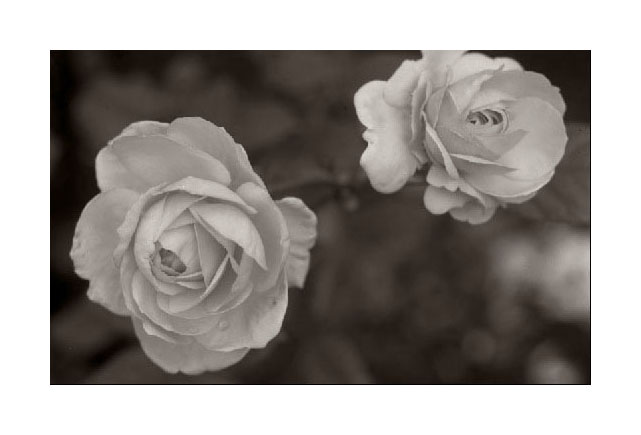 Against a white background, the image feels different than when against the black background of the scanner software. Depending on our choice of matting and frame, we may decide to adjust the tones of this photograph a bit further.
Finally, we save the file in the Photoshop PSD format, which uses a lossless compression algorithm. The file is smaller than the original TIFF but no quality is lost. To post this image on the internet, we can always make a JPG file later (8-bit only) but our working file is in PSD format, at full 16-bit depth.
16-Bit Workflow: No Banding

When we open an 8-bit grayscale image for editing, we start out with only 256 possible shades to work with and we proceed to lose data with each adjustment. When we convert to JPG format, we may lose even more shades. By the time we're done, some of our photos may have that unnatural "digitized" look, with gaps in the tonal scale. Some people call this banding. With 8-bit color images, we can quickly get banding in each of the 3 color channels.
It's much better to work in 16-bit mode if we can. We start out with 65,536 shades of grey. Even if we lose half of them, we still end up with a smooth image. In color, this is really 48-bit mode, since each of the Red, Green and Blue channels gets 16 bits.
Some writers suggest that because consumer-grade printers and monitors are currently limited to 8-bit only, there's no need to scan at higher bit depth. That approach only makes sense if we're never going to edit our images, because banding is introduced as soon as we start making corrections in 8-bit mode.
Also note that some printer software like Quadtone RIP allows us to print on Epson printers at 16-bit quality. It's not the printers which limit us, but rather the consumer-grade driver software.
Film Holders: Flatness, Focus and Newton's Rings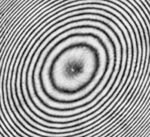 Epson film holders do a good job of keeping the film flat. Because the film sits above the glass, they also prevent Newton's Rings: concentric lines caused by interference. However, Epson film holders crop the image and being shiny, they cast reflections onto the edges of the image. To avoid these problems we can use a holder from BetterScanning.
With either Epson or BetterScanning holders, the scanner automatically sets focus to a few millimeters above the glass, but BetterScanning holders are adjustable so you can find best focus. For a personal sample of how the BetterScanning holder improves focus over Epson's holders, see my before and after images here. For Better Scanning's comparison samples, click here.
If you don't need the highest resolution from the scanner, another option is to tape the film directly on the glass and use the Epson "Film Area Guide". If we place the film emulsion-side down, Newton's rings are less likely to appear: this varies with choice of film. When we use the Film Area Guide the scanner focuses at the level of the glass. I use blue painter's tape which comes off easily.
The scanner is supposed to use a higher-resolution lens when we use a film holder, but when I compared I could not see any improvement in resolution. Please test this yourself and contact me if you can demonstrate a difference: send me the comparison photos please.